YO CUENTO MUCHOS NFT
11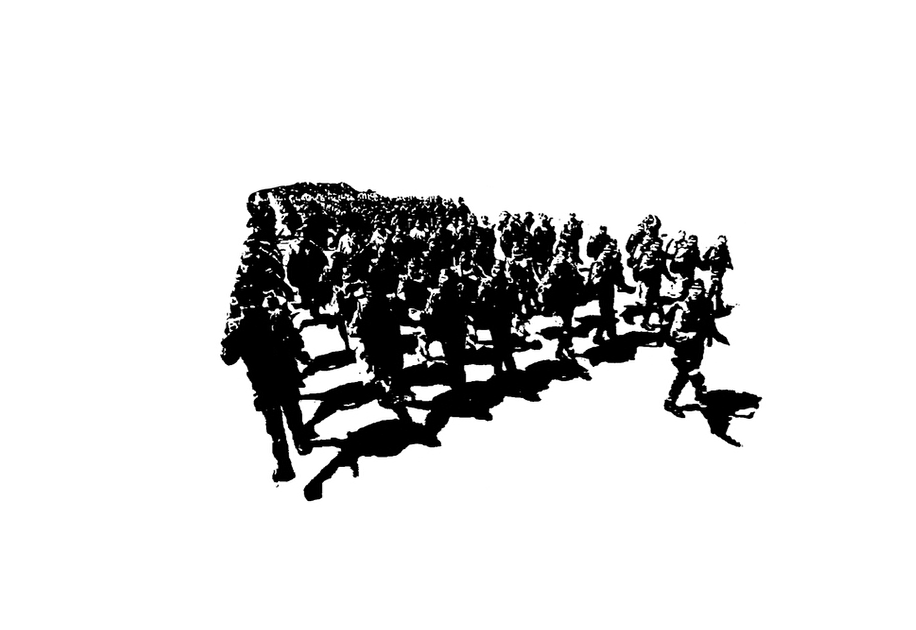 "I Count Many"
Artist: Ego Rangel
Video generated with rotoscopy (1920x1080 px, MP4, 16").

Video intervention of the mexican military from 2018, where they showcase their power and patriotic violence a year before Mexico's most violent year in history.

From the city of Tijuana, Mexico, Rangel's work ranges from the personal to the social, establishing a relationship between the senses of absence within the family and political environment.

YO CUENTO MUCHOS NFT
Updated at 2022-01-29 02:05:55 UTC
Dimension

18.81 Mb (1920 x 1080)
Latest events
Purchased by Anonymous_ux4d

2021-12-23 00:14:53 UTC

-9.49 BUSD
el_manuets
Listed by RedWOLF 🅝🅕🅣

2021-12-22 18:12:54 UTC

RedWOLF 🅝🅕🅣
Listed by RedWOLF 🅝🅕🅣

2021-12-22 06:05:29 UTC

RedWOLF 🅝🅕🅣
Listed by RedWOLF 🅝🅕🅣

2021-12-21 17:52:54 UTC

RedWOLF 🅝🅕🅣
Listed by RedWOLF 🅝🅕🅣

2021-12-21 05:47:27 UTC

RedWOLF 🅝🅕🅣
Listed by RedWOLF NFT

2021-12-20 12:34:13 UTC

RedWOLF 🅝🅕🅣
Listed by RedWOLF NFT

2021-12-19 19:09:28 UTC

RedWOLF NFT
Listed by RedᗯOᒪᖴ

2021-12-19 07:07:49 UTC

RedWOLF NFT
Listed by RedᗯOᒪᖴ

2021-12-18 11:05:13 UTC

RedᗯOᒪᖴ
Listed by RedᗯOᒪᖴ

2021-12-17 21:03:48 UTC

RedᗯOᒪᖴ
Latest lots
Title
Start price
Current bid
Start time
Ends at
YO CUENTO MUCHOS


Sold

9.49 BUSD


Fixed price
2021-12-22 18:12:54 UTC
6 months ago
2021-12-23 07:12:30 UTC
6 months ago
YO CUENTO MUCHOS


Completed

10 BUSD


Fixed price
2021-12-22 06:05:29 UTC
6 months ago
2021-12-22 18:06:56 UTC
6 months ago
YO CUENTO MUCHOS


Completed

0.02 BNB


Fixed price
2021-12-21 17:52:54 UTC
6 months ago
2021-12-22 06:02:31 UTC
6 months ago
YO CUENTO MUCHOS


Completed

0.02 BNB


Fixed price
2021-12-21 05:47:27 UTC
6 months ago
2021-12-21 17:50:04 UTC
6 months ago
YO CUENTO MUCHOS


Completed

12 BUSD


Fixed price
2021-12-20 12:34:13 UTC
6 months ago
2021-12-21 01:33:49 UTC
6 months ago
YO CUENTO MUCHOS


Completed

12 BUSD


Fixed price
2021-12-19 19:09:28 UTC
6 months ago
2021-12-20 12:28:59 UTC
6 months ago
YO CUENTO MUCHOS


Completed

12 BUSD


Fixed price
2021-12-19 07:07:49 UTC
6 months ago
2021-12-19 19:08:15 UTC
6 months ago
YO CUENTO MUCHOS


Completed

10 BUSD


Auction
2021-12-18 11:05:13 UTC
6 months ago
2021-12-19 07:04:35 UTC
6 months ago
YO CUENTO MUCHOS


Completed

12 BUSD


Fixed price
2021-12-17 21:03:48 UTC
6 months ago
2021-12-18 11:03:23 UTC
6 months ago
YO CUENTO MUCHOS


Completed

12.89 BUSD


Fixed price
2021-12-17 08:58:01 UTC
6 months ago
2021-12-17 20:58:33 UTC
6 months ago
Show all